This post shows you how to enable or disable power to the USB port on Computer.
We all know the benefit of putting computers on standby mode whenever we are not working on it. This saves power and makes the computer run with the lowest resources which also keeps it from heating up more frequently.
By default, the computer goes in standby mode after a set period of inactivity, where it takes the minimum electricity by disabling power to all the USB devices and even disconnecting to the LAN or Wi-Fi.
There are many people who use USB hubs to charge their devices like MP3 Players or Mobile phones.
I am using a desktop computer at work, which has a keyboard attached to the computer wirelessly, which gets disconnected from the computer because the power to USB is disabled when the computer is in standby mode.
If you too are facing this problem, or you want to keep the power coming to the USB, so that you can charge your USB devices, you can do so by going to the Device Manager by right-clicking on the My Computer icon on the desktop and going to Properties.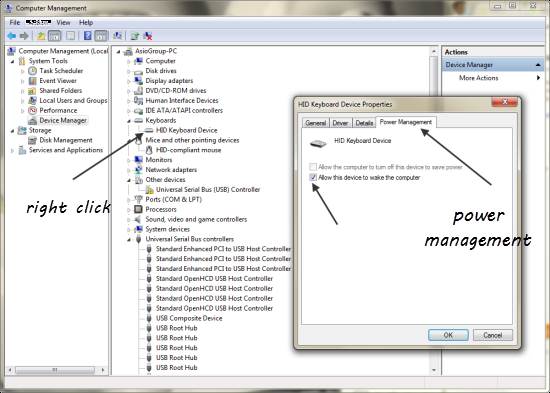 In the Device Manager, find the USB device, (in my case, it is the Keyboard device), right-click on it and go to Properties where you will find power management.
Check the other option to allow it to wake the computer. You can check or uncheck the other option if you want to enable or disable the power to USB devices.
This will allow you to charge your USB enabled devices by sim connecting then to be your desktop, even when it is in standby mode.
Can you charge your smartphone by connecting to the desktop USB?
Charging new smartphone you by connecting it to the desktop USB will work like charging or powering any other USB device by connecting to the USB of the desktop.
However, it is going to take a little longer to charge the battery of a smartphone. The larger the battery the longer it will take.
When USB was created, It was mainly created for connecting devices and transferring data, charging Vasant requirement back then.
Here is an article which talks about the USB power delivery system in detail, but below is a briefing of that article.
Although power management as part of USB specifications in the early generations it was not intended for charging USB devices.
So the USB 1.0 offered 0.5W, while USB 2.0 increase the power supply to 2.5W.
For comparison's sake, the chargers of mobile phones are capable of supplying up to 18W. Some even go as high as 27W.
But, to draw a similar amount of power from chargers, the smartphone also needs to support it, hence the certifications like Quick Charge 2.0, Quick Charge 3.0 and Quick Charge 4.0.