So, my Google Chrome got updated in the background. And I was welcomed with a new page that showed me there are new features added to this new update.
There are two features that are added to this new update in the Google Chrome browser.
Watch the Video
Price Tracker
Google will natively allow users to track the prices of a particular product. Although this feature is coming soon and is not yet available. Some Tech sites reported that it was made available in the beta version, but there is some glitch, it has been turned off for the time being.
Although there are third-party Chrome Extensions you can install, to track the prices of products on different websites.
Compare Search Results
This is a feature that got me excited. This new feature allows you to open the search result page in a side panel in the same tab where you have opened the first page from the search result.
How does this work?
Suppose you make a search by typing your keyword in a Google Chrome address bar. When you reach the result page, you can click on any page you think is relevant to the information you are looking for.
When that page opens, you will find a Google Search icon in the address bar. Clicking that icon makes the same google search result page open on a side panel. You can then browse through the search page and click on any other link you think would be a fit.
The webpage will open in the same tab.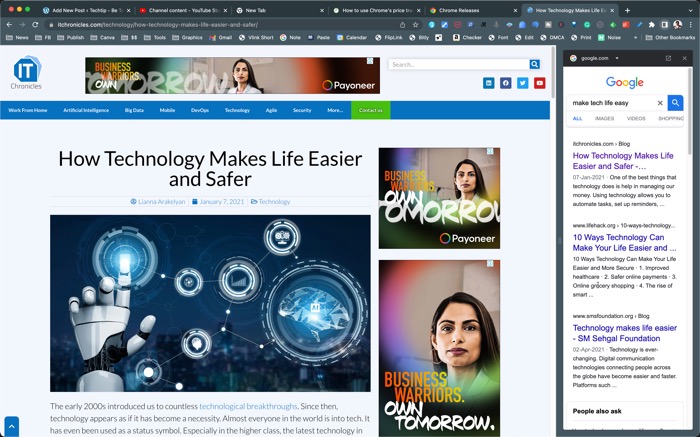 This will save a bit of the time that you previously spent clicking on the back button and then going to the result page if you were not satisfied with the information provided on the page you clicked.
This could be useful for the User as well as the webmasters (Publishers like us). One single search session would mean multiple page visits, so this could potentially bring more traffic to web pages.
What do you think about this new feature?