I shared how you can get Spotify premium accounts for cheap or even for free just about yesterday.
There is another premium service that gets searched or a lot on my blog. And it is a YouTube premium.
For those who don't know what YouTube premium is, Google's new way to monetize their largest video-sharing website.
There are many Perks of opting for YouTube premium, and the number one is to its ads free.
I don't know if you have noticed it already, but YouTube has started rolling more ads on YouTube. If the video is 10 minutes or longer, you will also see advertisements during the video. What are the reasons to push the users to get YouTube Premium?
The Other benefit is for mobile phone users who will be able to play YouTube videos in the background or a popup window (Picture-in-Picture mode) and use YouTube as a music player.
In this article, we will discuss various ways you can try YouTube Premium for free or get the subscription for cheap
Google wants everyone to try YouTube Premium at least once. That's why they are offering a free trial of one month.
In some cases, it is also offering the YouTube Premium trial for three months straight, like in India, with their recently launched and are offering three months or free trial.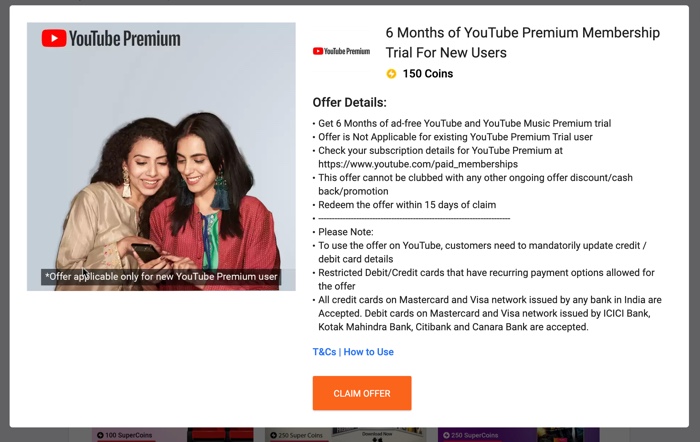 Occasionally they are offering a longer period of free trials as well, most recently, they were offering six months free trials of YouTube premium via Flipkart.
If you are from us or any other country where you find the YouTube Premium expensive (the YouTube premium in the US is $6.9), you can get the subscription from countries where it is cheaper.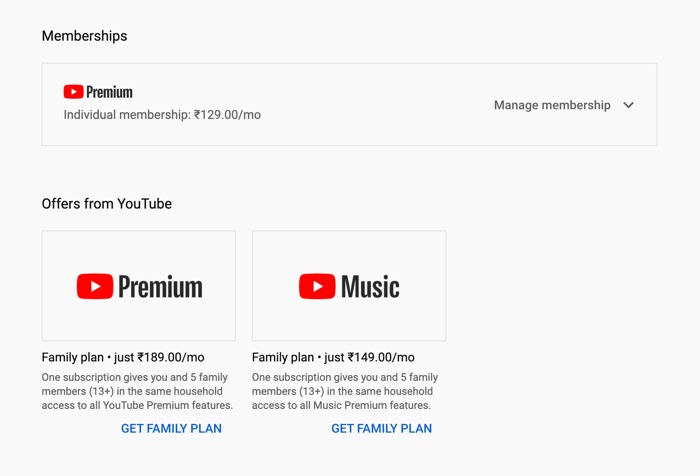 Like in India, the subscription costs Rs 129 per month, roughly less than $1.99.
Even the YouTube family plan will cost you not more than $2.50 since it requires only rupees 189 per month in India.
The family plan gives access to YouTube premium to you and five family members who are 13 years or older live in the same household.
Use YouTube Vanced (Mod APK)
If you can't pay money to get YouTube Premium, you can still enjoy the features offered by YouTube, in YouTube premium.
You will have to install a separate modded APK of YouTube, which is known as YouTube Vanced.
It allows you to play videos in the background and also removes ads from YouTube videos.
One thing to keep in mind is it is against the policies of YouTube and Google since the app offers premium features for free, it also blocks ads, and YouTube takes revenue loss every time you use YouTube Vanced.
They have also warned their users that they can deactivate their Google accounts if they found people using YouTube.
You can, however, use YouTube Vanced without login into it.
If you are planning to use YouTube as a music player, , you can try the YMusic app which gives you the entire library of YouTube music, for free.
Alternatively, you can also try these music players and music streaming services to enjoy music for free.