Digital love changing wallpapers of your laptops or desktops? I am sure you do. In this article I am going to share my tric of finding perfect wallpapers that match the resolution of my computer monitors.
I recently bought a 22inch Monitor and wanted to get some nice Full HD wallpapers (1920×1080) for it. I tried many websites but none of it gave me good enough options.
I liked few Wallpapers, but it took a lot of time and few wallpapers which I like were either small in size of were not of Good quality.
Use Google image search to find perfect wallpapers
You must be aware of Google Image search. You can use it for searching exact size wallpapers for your Computer.
This is how I search my wallpapers in Google search
Type Wallpaper followed by the resolution of your computer. In my case it is 1920×1080. You can add any other term if you are looking for wallpapers on a specific theme.
For example, you can type, car wallpapers 1920×1080, I hope you get the idea.
Once you have made the search, you can click on images. Then click on tools appearing on the right hand side, to select the size of images as Large. This will make sure only high quality images appearing in the search result.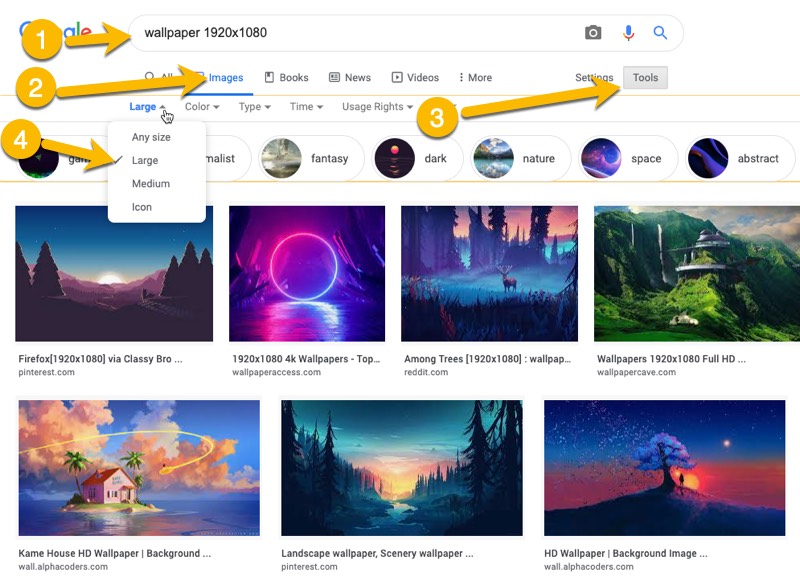 You can keep scrolling to find more pictures until you find the perfect one. Though it will not show every image of the desired size but you will get what you are looking for. Try it!
If you are not sure what you are looking for you can also check out websites like with survey and unsplash, both the site have got royalty free high quality images, which can also be used as wallpapers.