If you have been living under a rock for the last few months, there is news for you TikTok has recently surpassed Facebook in the number of downloads on the Android platform.
TikTok is an incredibly addictive mobile-first social media platform, where anyone can put short 15 seconds to 1-minute videos and get any instant fame.
TikTok is e the early and calcination of the musical app, which was acquired and then rebranded as TikTok.
While musically only offered users to put up their videos lip-syncing to music and dialogues, TikTok wants to do more and has been approaching different artists so that the variety of content on TikTok's platform can be broadened.
Now you can find educational content related to skills and entertainment and comedy sketches as well.
The good thing about TikTok is that it easily allows anyone to save any video from another platform and share it on other social media channels or even instant messaging apps like WhatsApp, Facebook or whatever medium you prefer.
What it does is it puts a watermark of its logo on every video that users save so that people who view it on other social platforms can find the user and follow them on TikTok.
It is also a way of indirectly promoting TikTok on other platforms.
While it is okay for many people to download videos with the watermark of TikTok, there is a specific group of people who would want to have a clean video without any watermark.
Maybe you want the videos you want to share on other platforms, and you do not wish to show TikTok.
There is a group of people who use TikTok for creating music videos of themselves but not publish it on the platform and use it as a WhatsApp status or even Instagram stories.
In these cases there is a workaround that lets you download TikTok videos without any watermark.
Web Apps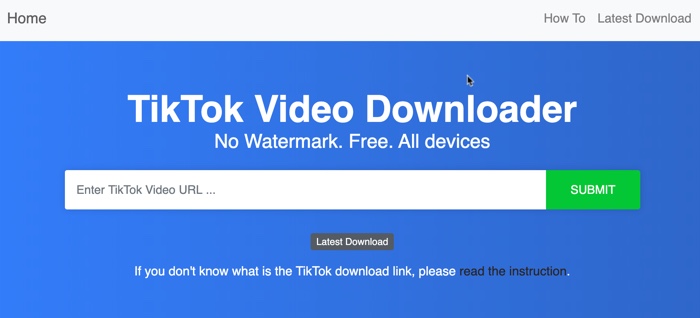 TikTok downloader is a web app, which means it is available on any platform. It would be best if you had your browser to access it.
All you need is the video URL you want to download, and then copy-paste it into the web app.
To get the URL, you can tap on the share icon, which will be available somewhere at the bottom right-hand side. For example, in the share option, one option would be a copy of the URL.
If you want to do it on your mobile itself, you can open the TikTok Video downloader on your mobile browser. It will quickly let you download the video without the watermark.
If for some reason TikTok video downloader does not work, carries an alternative web app called SSS TikTok.
Here's another tool that will easily let you download TikTok videos without the watermark, You can check it out here. I liked the UI. It's clean and shows fewer ads. It also lets you download mp3 music from TikTok videos, which many users are interested in.
Here is a video tutorial showing you how to use the web app.
Android Mobile Apps
If you look for a mobile app for Android that will let you download it, talk with us, there will be plenty in the Play Store.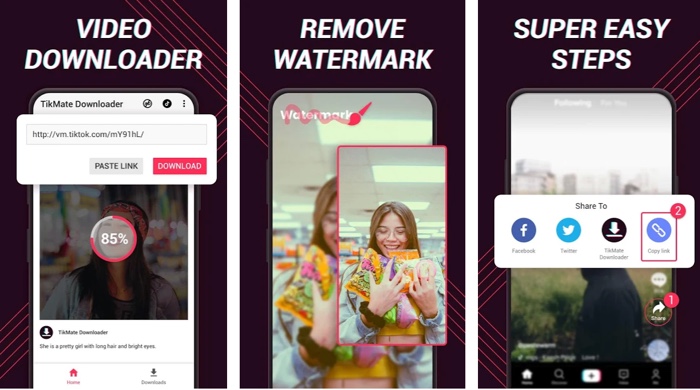 The most popular is Video Downloader for TikTok. And it is Video Downloader for TikTok – No Watermark
The process of downloading TikTok videos without the watermark is pretty straightforward, tap on the share icon on the video you want to download, and then select the video downloader for the TikTok app, and you are done.
Similarly, you can use also use the Snaptube app to download TikTok videos. The great thing about Snap tube is that it also lets her download videos from YouTube, Instagram, and other popular sources.
But since it does not comply with the policy of Google, it is not available in the Play Store. You can check out this article to download the latest version of the Snaptube app for Android.
Download TikTok videos without watermark using TikTok modded app
This is by far the quickest option to download TikTok videos without any watermark.
Instead of using the official TikTok app, you can use the modded APK of TikTok. The Modded APK of TikTok has been modified to unlock features and limitations of the official TikTok app. If you are not familiar with what modded APK is, you can check out this article.
Since modded APKs do not comply with policies set by Google, it is not available in Play Store, but you can download it from other sources.
The only trick is which source to trust since an unofficial developer has modified it.
If you want to download Instagram Reels, check out these tools.