Books are a great way to gain knowledge from someone else's experience. But if you hate reading, it will be difficult for you to gain that knowledge.
Thankfully, technology today has enabled us to not just read books but also listen to them.
Services like Audible have got thousands of books converted into audio, narrated by professionals, are available at our fingertips. The subscription is as low as Rs199  per month.
I had been enjoying the service for more than a year. But, I want to pause, because I was going to travel for a long time, I was not sure that I will be able to listen to any more books as I already have got two of them that I haven't finished.
So, I thought of canceling the subscription for a month or two, and surprisingly it is quite tough to find the option to cancel in the app. I tried cancelling the Audible subscription on both the Android app and iOS app but failed.
How to cancel an Audible subscription?
Currently, the best option to cancel an Audible subscription is to go to the website, it will give you the option to access your account, from where you can go to the section which has the option to cancel the subscription.
Once you are on the website it only takes 30 seconds to cancel the subscription. And this option is not equally available in the mobile version of the website. So, if you want to do it from your mobile phone, you can open the website in Chrome on your mobile phone and then request the desktop version of the website.
Then follow the steps mentioned below.
Tap on the account name that appears on the top right-hand side.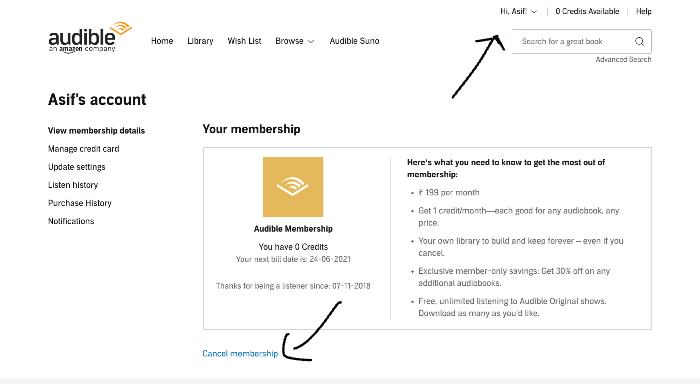 Tap on account details that appear in the drop-down.
This will take you to the page where you can tap on cancel subscription.